News
'People find us easy targets': Women politicians face a torrent of online abuse but say they won't stop their work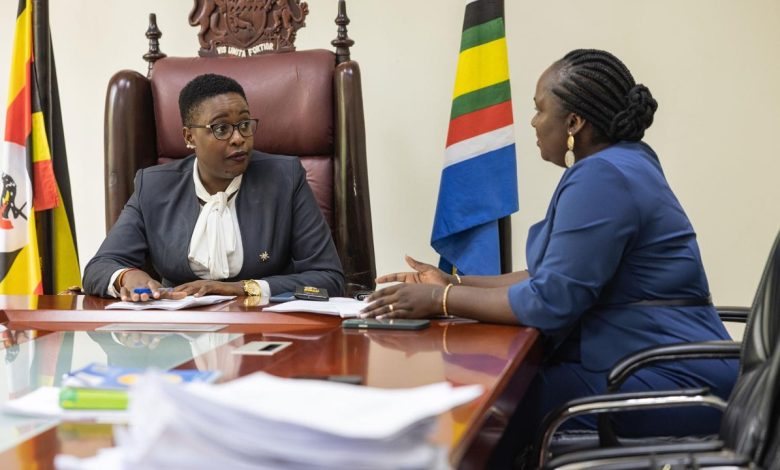 Doreen Nyanjura is a modern politician. She announced on Twitter that she would be standing in Uganda's 2026 presidential election; has a name for her supporters — the Nyanjuraholics — and has characterized her platform with a catchy hashtag: #ThePoliticalAntidote.
But with this presence online, Nyanjura says she faces the now-standard challenges of being a woman in politics: in addition to the tweets of support or derision that most politicians on social media have become accustomed to, Nyanjura also receives tweets of misogynistic mockery.
"The table you are shaking is for Bigbouys [sic] not slayers my dear. Don't even waste your capital unless there's something you're running after," one person said, responding to Nyanjura's announcement that she intends to run in Uganda's 2026 presidential election against Muhoozi Kaneirugaba, the son of current president Yoweri Museveni — if he runs.
"First get married then contest on the presidential seat, (because) you can't rule (people) who are married. What would you be advising them?" asked another.
As the Deputy Lord Mayor of Kampala, Uganda's capital city, Nyanjura is no stranger to personal attacks online, which she tells CNN increased in volume after she took on her mayoral appointment nearly three years ago, and cover everything from the length of her hair to her age and marital status.
Doreen Nyanjura, the Deputy Mayor of Kampala, during a council meeting at the City Hall offices in Kampala, Uganda.
"The fact that I am single was another reason for the bullying with many saying that it was the reason I got the position," insinuating that she had used sex to get ahead, Nyanjura tells CNN. People will say "I am not responsible because I am not married," she says. And if they ever saw her with a man, even just standing next to one, "they would want to make it an issue."
Opinion: An internet that women want? It looks like this
The 33-year-old politician, who was a student activist at Makerere University in Kampala before entering into politics in 2016 and joining the Forum for Democratic change (FDC), one of Uganda's main opposition parties, says that the harassment she gets on social media and messaging platforms is worse when she advocates for gender equality.
"Many feel advocating for equity and equality is an abuse of culture and religious beliefs. For all my posts advocating for gender equity, I receive abuse or insults," Nyanjura explains, adding that her advocacy posts on social media usually get lifted and shared across several WhatsApp groups, followed by abuse on all platforms.
Nyanjura goes on: threats of "physical attacks happen when I am planning a demonstration and posting about them on social media … I get threats of being arrested or being carried in a 'drone' (a nickname given to the vans that have reportedly been used in arrests of political activists in Uganda). So, I stay away from my home at such times and ask my family members to do the same," she told CNN.
Doreen Nyanjura checks her social media.
At first, the abuse made her feel awful, she says, but aware that her abusers want to silence her Nyanjura tells CNN that she's decided to stand her ground and be a positive example for other women in public life.
"There are so many women who are not on any of these media platforms (but) if I am to go off social media because I have been bullied, what example am I creating for other women that are following me, my posts, my videos and pick encouragement from me?"
One in two Ugandan women in public life targeted
Recent surveys in Uganda have revealed stark numbers highlighting how common it is for women to be targeted online.
The research, led by the feminist tech collective Pollicy in 2020, found that one in three (32.8%) women between the ages of 18 and 65 surveyed in Uganda said they have experienced gender-based online violence. A 2021 study found that this increased among women leaders and high-profile women, with 50% experiencing trolling.
"Many of them stopped using the apps and stopped organizing online," says Irene Mwendwa, Director of Strategic Initiatives at Pollicy.
The 2021 study found that the use of social media platforms by women politicians to engage with voters was low compared to men and, Mwendwa says, in the lead up to the 2021 election, "the numbers continued to decrease due to the online abuse that (women) were facing."
Another 2021 study on women in Africa's parliaments, conducted by the Inter-Parliamentary Union (IPU) and the African Parliamentary Union (APU), further found that 42% of women parliamentarians have received "death threats, rape threats, or threats of beating or abduction, usually online."
The report, the second by the IPU, following one in 2018 on European parliaments, found that in comparison "online attacks are also common but lower than in Europe," attributing the difference to "greater disparities in women's access to the internet between the two regions."
Irene Mwendwa, Director of Strategic Initiatives working at Pollicy offices in Kampala, Uganda.
Irene Mwendwa, Director of Strategic Initiatives working at Pollicy offices in Kampala, Uganda.
When Olive Namazzi decided to go into politics, she believed she would have a rewarding public life. But Namazzi, who, like Nyanjura, is 34 and in the FDC, says she hadn't realized that stepping into the political arena as a woman — and one with a disability — would kick off a campaign of cyberbullying that would last for more than a decade. 
As part of its commitments, the FDC prioritizes women's empowerment. In her role overseeing health, education, environment and sports for the Kampala City Council, Namazzi says social media is a vital tool to help make her work in the community visible and to build voter support. But it is also a space she says she must defend herself against a torrent of abuse.
Speaking on why women politicians and public figures experience more cyberbullying than their male colleagues, Namazzi tells CNN: "People find us easy targets. Once you are a woman who is known, you are a likely candidate for bullying."
Olive Namazzi meets with her constituency members in Naguru, a neighborhood of Kampala, Uganda.

Olive Namazzi meets with her constituency members in Naguru, a neighborhood of Kampala, Uganda.
An accident in 2013 left her with a limp, for which she wears specially made shoes. For her detractors, this is something to mock. She described an exchange in a WhatsApp group she's in: "I was trying to reason somebody out intellectually and then somebody (else) came and started abusing me that I put on shoes that are not balancing. He started telling me about how I can't balance when I am walking," Namazzi says. "It was below the belt."
In another WhatsApp group, this time a private group chat with other politicians, Namazzi says remarks were made about the age at which she got married and started a family. "What I find interesting is that sometimes these abuses are from our very colleagues who are educated and whom we expect to understand us," she says, adding: "This is on a platform of leaders. It was very bad."
Namazzi and Nyanjura's experiences are supported by the IPU and APU's 2021 research, which found that the majority of abuse women parliamentarians face, comes from their male peers, especially those from rival parties. The report also found that women parliamentarians who live with disabilities as well as those who are unmarried, under 40, and from minority groups, suffer more violence. As Nyanjura's account shows, women MPs who promote women's rights and gender equality are also targeted, the report found.
Credit: CNN